Missions to America's Juvenile Delinquents
I Chronicles 29:11, 12
Thine, O LORD, is the greatness, and the power, and the glory, and the victory, and the majesty: for all that is in the heaven and the earth is thine; thine is the kingdom, O LORD, and thou art exalted as head above all.
Both riches and honor come of thee, and thou reignest over all; and in thine hand is power and might; and in thine hand it is to make great, and to give strength unto all.
General Statement of Faith
Faith Baptist Church is an Independent Baptist Church.
1. We believe that the Bible, both Old and New Testaments is the complete, inerrant, infallible, revelation from God and is verbally inspired of God. We believe that the King James 1611 Authorized Version is God's preserved Word for the English speaking people today.
2. We believe that God is Supreme in His person, Eternal in His being, Absolute in His attributes, and Glorious in His perfection.
3. We believe that Jesus Christ is God in the flesh, born of a virgin, lived a sinless life, died on the cross of Calvary for the sin of mankind, was buried, rose on the third day and ascended to heaven to prepare a place for those that trust in Him. We believe that Jesus Christ will one day return to rapture His church and then return with His church, after seven years (tribulation), to set up His earthly kingdom which will last for 1000 years.
4. We believe the Holy Spirit is the third person of the Godhead and that He executes the plan for God for conviction and salvation. Christians are partakers of the Holy Spirit and empowered for service by Him.
5. We believe that man was created in the image of God, and by choice fell into sin and death, hence every person is sinful and under condemnation to eternal judgment.
6. We believe in salvation by grace through faith in our Lord Jesus Christ and that in Him alone is the only way to heaven. We believe that the condition of salvation is repentance toward God and faith in Jesus Christ and His finished work, and that salvation produces a new creature. We believe that baptism is not for salvation but is obedience to the Lord after salvation. We believe that this is accomplished by submersion and in doing so identifies you with the death, burial, and resurrection of Christ, but does not wash away sin.
7. We believe that those who receive Jesus Christ as their Saviour, are eternally secure. Our security rests on the finished work of Jesus Christ.
8. We believe that a true New Testament church is a called out, born again body of baptized believers set apart to do God's business, practicing New Testament principles, believing its doctrine, observing its ordinances, and exercising its autonomy. We do believe there is a mystical body of Christ, of which He is the Head.
9. We believe in a literal Heaven for those that are saved and a literal Hell for those that are lost. We believe in a pre-tribulation rapture of the church, where Jesus Christ will return for those who have believed on Him.
— David Wood - Pastor
About the Pastor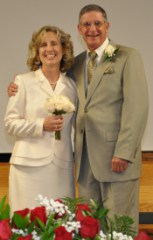 Pastor David Wood was saved at the age of 18 in 1972 from a life of drugs and rock-and-roll. Two years later he became the pastor of Victory Baptist Church in Attalla, Alabama. Soon he completed studies through the Covington Theological Seminary. In 1975, Pastor Wood started the Bible Baptist Church in Attalla, Alabama. He pastored there until 1989 when he and his family went into mission work with Juvenile Delinquents. In 1990, Pastor Wood started the Faith Baptist Church in Pell City, Alabama where he remains as pastor. Faith Baptist Church is home to Missions to America's Juvenile Delinquents, a mission's board with concentration on the troubled youth of America. Faith Baptist is also home to Faith Baptist Youth Camp, located on Logan Martin Lake in St. Clair County. Pastor Wood is married to Rosezanne Brown Wood. They have 3 children, 6 grandchildren, and twins expected.
II Timothy 4:2
Preach the word; be instant in season, out of season; reprove, rebuke, exhort with all long suffering and doctrine.
Church Services
Sunday School: 10 am
Morning Worship Service: 11 am
Evening Worship Service: 6:30pm
Wednesday Bible Study: 7 pm
Nursery Provided
Bible Institute
Thursday Night: 7 pm - 9 pm
KJV Bible Believing Baptist Churches:
Contacts Us
Please contact us with any question you may have about Faith Baptist Church or Youth Camp.
We will respond as soon as possible.
Thank you for your interest!
David Wood - Pastor

Name
Phone
E-Mail
David Wood
Pastor
(205) 365-3165
(205) 607-4206
Camp (205) 472-2155
Daniel Wood
Associate Pastor
& Youth Director
(205) 902-1702
Return To Top
Faith Baptist Church ☀ 417 Degaris Road ☀ Pell City, AL 35128 ☀ (205) 365-3165 ☀ Mailing Address - P O Box 329 ☀ Cropwell 35054